The Southpaw Postcard Collection - Commercial
---
thesouthpaw.net
thesouthpaw@comcast.net
256-426-6385

These postcards about the BUSINESSES of Huntsville and Madison County are from the extensive collection of George & Peg Heeschen.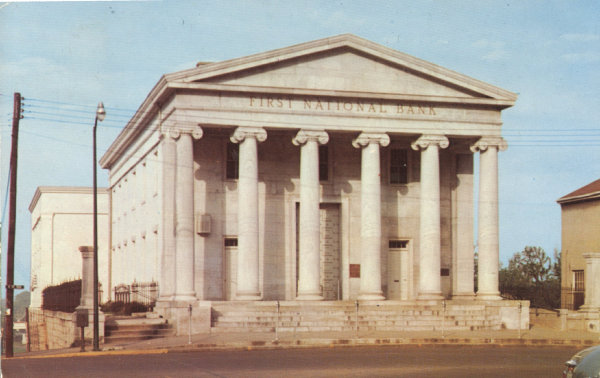 Item 24 of 30 (8515)
Back: FIRST NATIONAL BANK BUILDING, Huntsville, Alabama.
For more than 100 years this beautiful building has stood as an architectural and financial landmark on a high limestone bluff, overlooking the Big Spring. It was used as a Commissary by Federal Troops during Huntsville's occupation in 1862.
Source:
Pub. by Universal Photo Shop, Huntsville, Ala.
Dexter Press, Pearl River, N. Y.
Date:
c 1955
Rights:
From the postcard collection of George and Peg Heeschen, The Southpaw, Huntsville, Alabama