The Southpaw Postcard Collection - Homes
---
thesouthpaw.net
thesouthpaw@comcast.net
256-426-6385

These postcards about the Homes of Huntsville and Madison County are from the extensive collection of George & Peg Heeschen.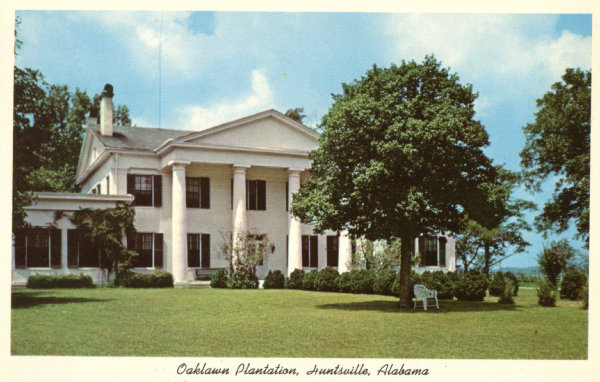 Item 2 of 16 (8589)
Front: Oaklawn Plantation, Huntsville, Alabama
Back: OAKLAWN PLANTATION, HUNTSVILLE, ALABAMA
This is but one of many outstanding Ante-Bellum homes in the area. Its present owner, Mr. Max Luther, has modernized the building without losing any of its gracious beauty, surrounded by almost 200 acres which is now being operated as a stock farm.
Source:
Anderson News Company, Florence, Ala.
Curteichcolor
Rights:
From the postcard collection of George and Peg Heeschen, The Southpaw, Huntsville, Alabama