The Southpaw Postcard Collection - Hotels & Motels
---
thesouthpaw.net
thesouthpaw@comcast.net
256-426-6385

These postcards about the HOTELS & MOTELS of Huntsville and Madison County are from the extensive collection of George & Peg Heeschen.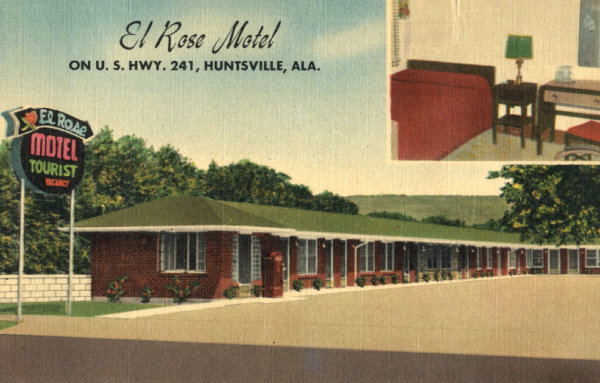 Item 67 of 81 (8710)
Front: El Rose Motel on U.S. Hwy. 241, Huntsville, Ala.
Back: El Rose Motel. Huntsville's Newest and Finest Ultra Modern Brick Units, Hot Water Heat, Private Tile Baths, Simmons Equipped Throughout. Owned and Operated by Mr. & Mrs. Roy Jacks and Daughter. In City Limits. Highway 241 N. on Florida Short Route. Phone 281 - Huntsville, Ala.
Source:
MWM Co., Aurora, Mo.
Rights:
From the postcard collection of George and Peg Heeschen, The Southpaw, Huntsville, Alabama