The Southpaw Postcard Collection - Hotels & Motels
---
thesouthpaw.net
thesouthpaw@comcast.net
256-426-6385

These postcards about the HOTELS & MOTELS of Huntsville and Madison County are from the extensive collection of George & Peg Heeschen.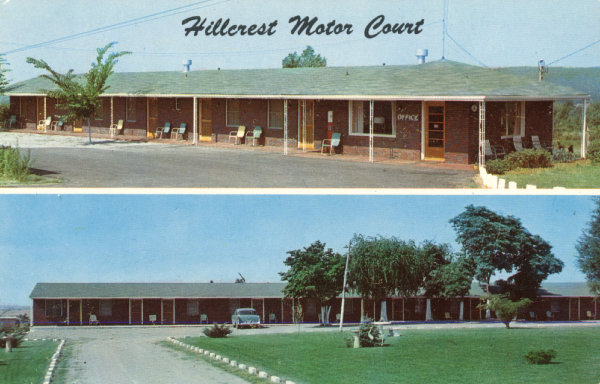 Item 7 of 81 (8650)
Front: HILLCREST MOTOR COURT
Back: HILLCREST MOTOR COURT, Three Miles West of City, On U. S. HIGHWAY 72 WEST, Phone Jefferson 4-9184
New, Modern, Air Conditioned, Electric Heat, Television in Lobby, Tile Baths, Restaurant in connection - Reasonable Rates.
Mr. & Mrs. W. C. Miller, Owners & Managers.
Source:
Pub. by Floyd Sandlin, Huntsville, Alabama
Dexter Press, Inc., West Nyack, NY
Rights:
From the postcard collection of George and Peg Heeschen, The Southpaw, Huntsville, Alabama