The Southpaw Postcard Collection - Hotels & Motels
---
thesouthpaw.net
thesouthpaw@comcast.net
256-426-6385

These postcards about the HOTELS & MOTELS of Huntsville and Madison County are from the extensive collection of George & Peg Heeschen.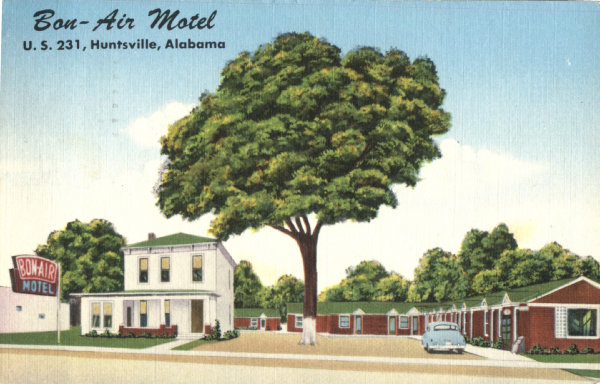 Item 56 of 81 (8699)
Front: Bon-Air Motel, U. S. 231, Huntsville, Alabama
Back: BON-AIR MOTEL, Electric Heat - Air-Conditioned - Tile Showers - Beauty Rest Mattresses - Excellent Air Conditioned Restaurant near by. MR. & MRS. R. E. HICKS, Owners and Managers. U.S. Highway 231 inside City Limits. North Huntsville, Alabama. Phone 2706.
Source:
Willens & Co., Chicago 12, Ill.
Rights:
From the postcard collection of George and Peg Heeschen, The Southpaw, Huntsville, Alabama