The Southpaw Postcard Collection - Hotels & Motels
---
thesouthpaw.net
thesouthpaw@comcast.net
256-426-6385

These postcards about the HOTELS & MOTELS of Huntsville and Madison County are from the extensive collection of George & Peg Heeschen.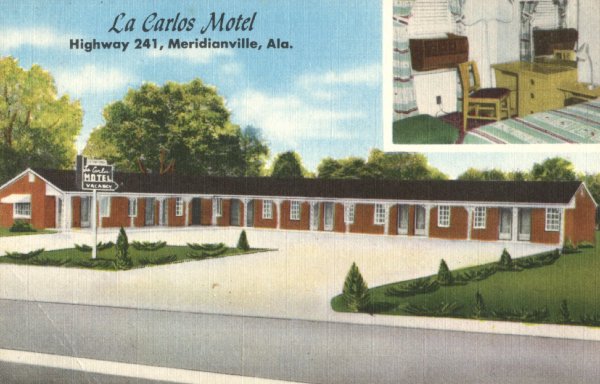 Item 13 of 81 (8656)
Front: La Carlos Motel, Highway 241, Meridianville, Ala.
Back: LA CARLOS MOTEL, 8 miles North of Huntsville, on Highway 241, Meridianville, Alabama. New brick, air-conditioned optional. Electrically heated. Furnished with the best in furniture. Wall to wall carpet. Ceramic tile bath, box spring. Beauty Rest mattresses. Radio In every room. Restaurant adjoining.
Owned and operated by Mr. and Mrs. C. M. and J. S. Brewer.
Source:
MWM Co., Aurora, Mo.
Rights:
From the postcard collection of George and Peg Heeschen, The Southpaw, Huntsville, Alabama