The Southpaw Postcard Collection - Redstone Arsenal
---
thesouthpaw.net
thesouthpaw@comcast.net
256-426-6385

These postcards about REDSTONE ARSENAL are from the extensive collection of George & Peg Heeschen.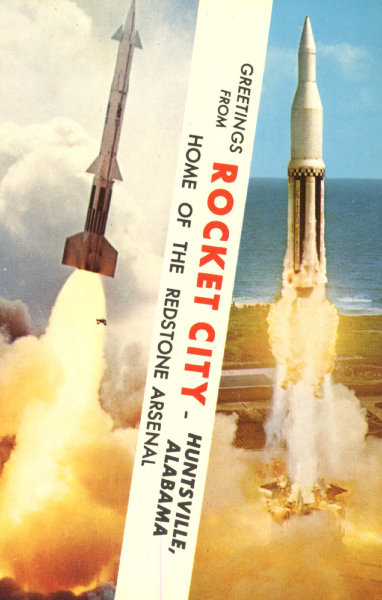 Item 1 of 34 (8417)
Front: Greetings From Rocket City - Huntsville, Alabama, Home of the Redstone Arsenal
Back: Huntsville is the home of Redstone Arsenal which houses the U. S. Army Missile Command with responsibility for all Army Missiles and Rockets, the U. S. Army Ordnance Guided Missile School where soldiers receive missile training and the George C. Marshall Space Flight Center of NASA which provides the giant rocket vehicles for the nation's space program.
Source:
Anderson News Company, Florence, Ala.
Rights:
From the postcard collection of George and Peg Heeschen, The Southpaw, Huntsville, Alabama