Alabama Mosaic
---
AlabamaMosaic, a cooperative venture by several organizations within the State, provides a large collection of historical photographs. Many of the photographs from the Huntsville - Madison County Public Library are available at this site.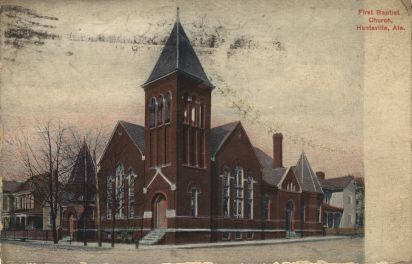 Item 9 of 29 (4549)
"First Baptist Church, Huntsville, Alabama. Color photographic view of a church building in a winter time. Postmarked Jan.30, 1914. Divided back postcard."
Source:
American News Company
Date:
c 1910-1920s
Rights:
"Alabama Mosaic; Troy University Library, Special Collections"