The Southpaw Postcard Collection - All Postcards
---
thesouthpaw.net
thesouthpaw@comcast.net
256-426-6385

These postcards about Huntsville and Madison County are from the extensive collection of George & Peg Heeschen.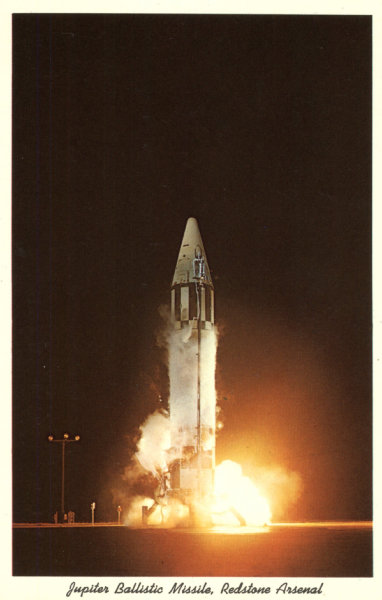 Item 38 of 498 (8444)
Front: Jupiter Ballistic Missile, Redstone Arsenal
Back: JUPITER BALLISTIC MISSILE, REDSTONE ARSENAL, HUNTSVILLE, ALABAMA
The largest weapon, for which the Army has development responsibility, the Jupiter has pin-point accuracy against targets at ranges up to 1,500 nautical miles. The missile is 58 feet in length, and 105 inches in diameter.
Source:
Anderson News Company, Florence, Ala.
Rights:
From the postcard collection of George and Peg Heeschen, The Southpaw, Huntsville, Alabama