L. Trice Hinds
---
Trice showed great artistic abilities as a small child growing up in Arab and received private art lessons from artists in Guntersville, Cullman and Birmingham. He has won awards at both the state and national levels. At Birmingham Southern College, he studied under Raymond McMahon. He was a Technical Illustrator at the US Army Missile Command before retiring to devote full time to painting in his backyard studio. His paintings grace homes throughout the state and many homes here in Huntsville.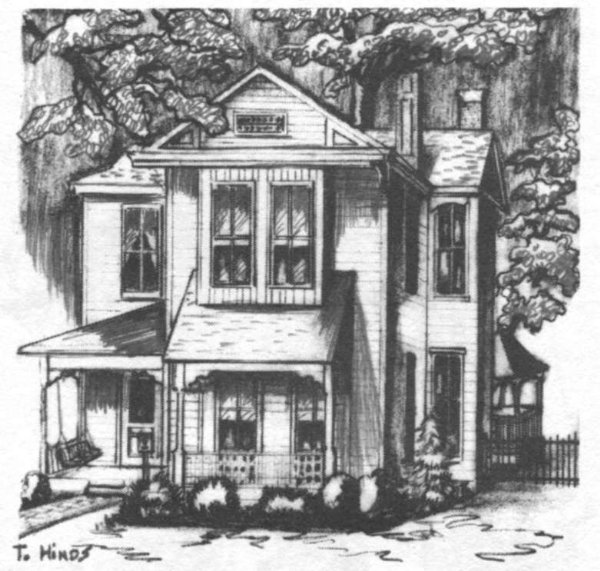 Steger-Russell-Hamaker Home, Randolph
The Steger-Russell house was built in 1891 by Benjamin and Fannie Steger, longtime residents of the Huntsville area. The construction was performed by a local builder in a style typical of Victorian houses of the period. The Stegers lived in the house for nearly 30 years. In 1920, the house was sold to Dr. Christopher H. Russell and his new bride, Bessie King Russell. Mrs. Russell was to become a well known Huntsville school teacher and librarian. Her tremendous contribution to the community resulted in having a library named in her honor.
The current owners purchased the house from Mrs. Russell in 1980, making them only the third owners of this nearly 100 year old house.The floor plan of the house is the familiar 19th century pattern of a first floor entrance hall with staircase, double parlors, dining room and kitchen with the second level devoted to bedrooms. Distinctive features of the house include the mock front porch, accessible only through front parlor windows that raise up into concealed pockets inside the walls, original exterior Victorian trim and poplar siding, and original interior details such as horsehair plaster walls, natural finish woodwork and heart pine floors. Sketched by their neighbor, artist Trice Hinds in 1988.
Item 18 of 20 (5956)
Source:
Leon Trice Hinds
Date:
1988
Rights:
Reproduced from "Twickenham Tables" published by the Twickenham Historic Preservation District Association, Inc., 1988, with the permission of THPDA and the artist.