L. Trice Hinds
---
Trice showed great artistic abilities as a small child growing up in Arab and received private art lessons from artists in Guntersville, Cullman and Birmingham. He has won awards at both the state and national levels. At Birmingham Southern College, he studied under Raymond McMahon. He was a Technical Illustrator at the US Army Missile Command before retiring to devote full time to painting in his backyard studio. His paintings grace homes throughout the state and many homes here in Huntsville.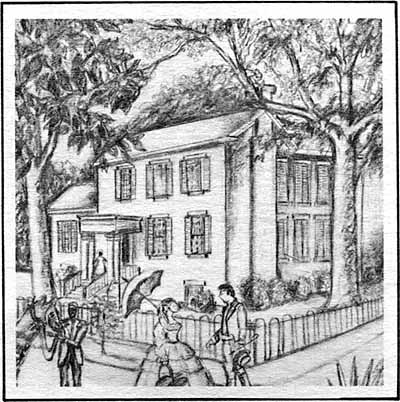 GEORGE STEELE-COONS HOME, Randolph Street
Built ca. 1825, this Federal, 2-l/2 story brick house was the first known local residence of George Steele, Huntsville's outstanding 19th century architect. Late 19th century additions have been incorporated. Sketched in 1978 by Leon Trice Hinds, artist and neighbor.
Item 9 of 20 (5895)
Source:
Leon Trice Hinds
Date:
1978
Rights:
Reproduced from "Twickenham Receipts and Sketches" published by the Twickenham Historic Preservation District Association, Inc., 1978, with the permission of THPDA and the artist.