Susan McCrary
---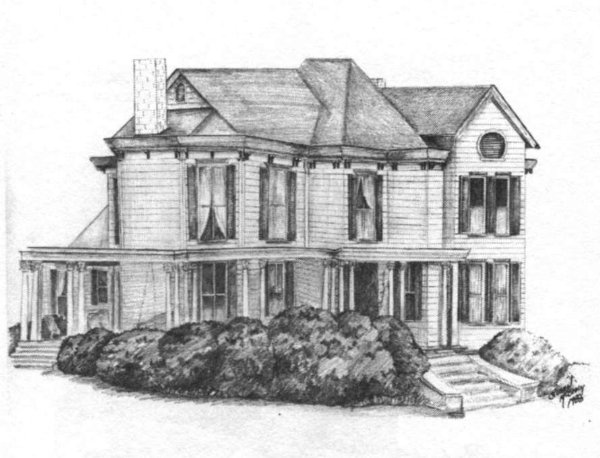 Clanton-Sutton Home, Adams Street
Jennie Clanton, a widow, purchased the lot in 1889 and construction of this Queen Anne Revival-style house was completed in 1892. The house retains its original exterior carved woodwork beneath the eaves and on its front gable. Fluted Corinthian columns support the porch. In 1904 the house was purchased by Dr. Frazier Adams, a dentist, and his wife and was known as the Adams house by older Huntsvillians.
For a number of years between the mid-1920's and early 1930's, the house stood vacant. The Locust Street children believed it to be haunted. The J.O. Price family bought the property in the 1930,s. These owners are remembered for their protection of the Adams Street oak, which caused motorists distress for it grew in the street nearly blocking one lane.
The present owners, Mr. and Mrs. William G. Sutton, bought the house in January 1971 and moved in with their four children in July 1971. Most of the house has been redecorated and the kitchen remodeled. In 1986, the rear garden area with brick serpentine wall was redesigned and a fountain added. Sketched by local artist, Susan McCrary, 1988.
Item 6 of 6 (5980)
Source:
Susan McCrary
Date:
1988
Rights:
Reproduced from "Twickenham Tables" published by the Twickenham Historic Preservation District Association, Inc., 1988, with the permission of THPDA and the artist.