The Huntsville History Collection: A Portal to Huntsville's Past
The Huntsville History Collection explores the history and historic architecture of Huntsville and Madison County. The content has been gathered through the cooperative efforts of the people and organizations dedicated to preserving our community's rich history.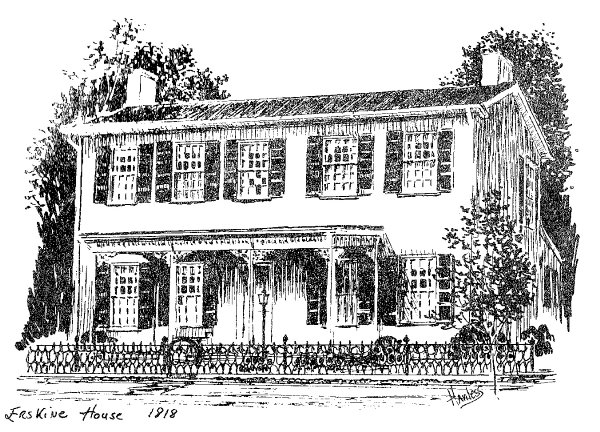 1818 Erskine House at 527 Franklin Street SE. Drawing by Lee Harless
What's New
Although Version 2. 0 of the Huntsville History Collection has a new look and feel, it contains the same content as the earlier version, plus new materials such as Valley Leaves, Old Huntsville Magazine, the Madison County Bicentennial Bookshelf and a variety of Madison County historical records.
The content has been organized into the following major sections:
Collections – Many of the collections from the original version of the Huntsville History Collection plus the History Outreach Program for Educators (HOPE) materials.
People – Information about the People of Huntsville (in Historical Figures) as well as the work of local historians and artists.
Places – Huntsville's historic buildings are listed in this section under Historic Buildings (listed by addresses) and Historic Districts (includes maps and survey information). Information about historical markers and local cemeteries can also be found here along with links to digital walking tours.
Publications – The previously available Huntsville Historical Review and the Historic Huntsville Quarterly, as well as the new added Old Huntsville Magazine, Valley Leaves and the Madison County Bicentennial Bookshelf ( 30+ local history books).
Stories – Audio recordings and other stories about Huntsville.
Records – Historical Probate, Chancery Court, Circuit Court, Child Labor, Deed, Tax and Cemetery records for Madison County.
Navigation
This site is best viewed in a maximized browser that is capable of displaying PDFs. The Chrome browser is recommended since it supports PDFs and is available for most devices. If your browser does not support PDFs, you can download Adobe Reader or another PDF viewer.
If you think something is missing, scroll down the page, increase the browser width, or maximize the browser by clicking the Toggle View button at the top of the page.
Topics are accessible from a top menu which remains constant and a side menu which changes as you dive deeper into the content.
If you get lost, click on the History Collection icon in the upper left corner to return to this Home Page.
Menu options with an arrow (↗ ) will open a new browser tab. Select the HHC tab to return to the main collection tab
Search Help
Use the following formats for search terms:
  word1 word2 = Match on either word
  "word1 word2" = Match on exact phrase
  + word1 + word2 = Both words required to match
  wor* = Match of any word starting with wor

If the search term is not passed to the selected document, use the native search capabilities of your browser (usually accessed by pressing CTRL-F) to re-enter the search term.